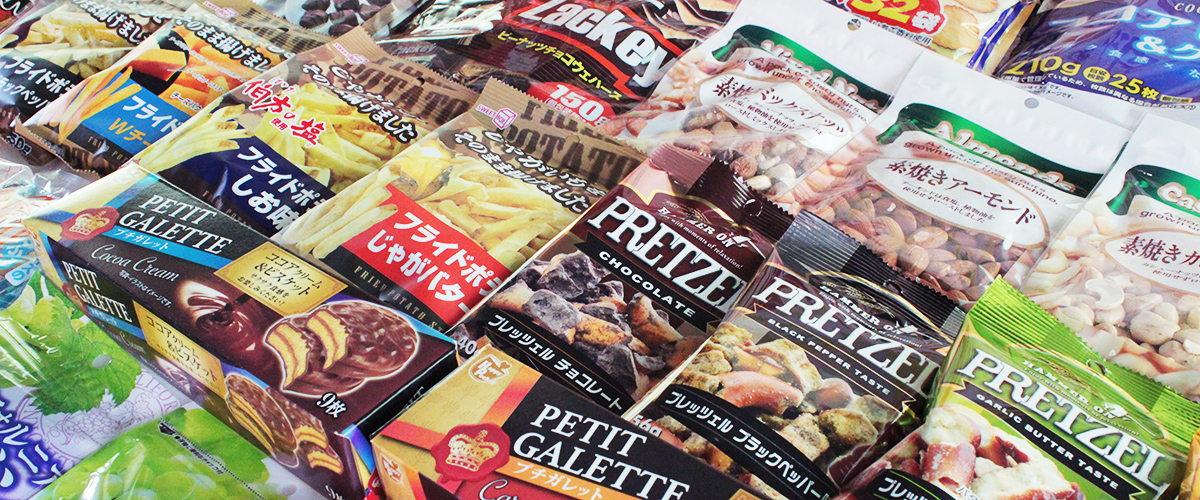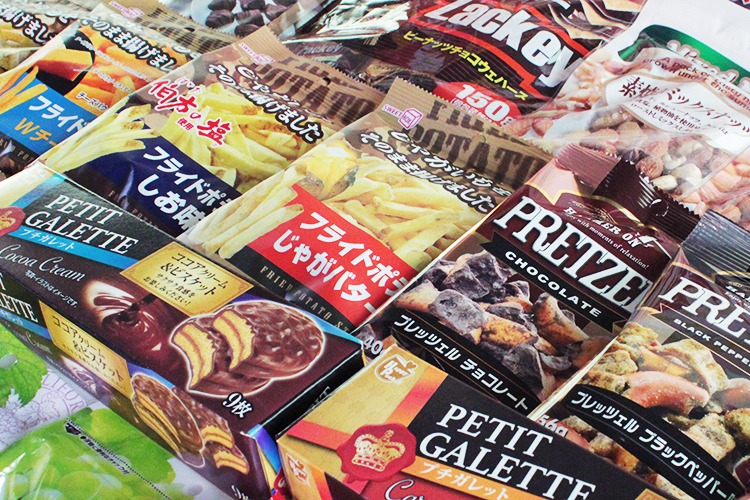 Product Lineup
To produce the sort of sweets products requested by our customers, Miyata makes efforts in sweets production to import from an array of manufacturing processes. Let us introduce one line of products that are possible with Miyata.
Raw Material Base
Unifying the process from sourcing raw material
to manufacturing a finished product, involving products that can be developed
Snack
Material
Products

・Potato chips
(Many different cut variations)
・Vacuum-fried potatoes
・Molded potatoes
・Pretzels
Nuts,
Dried Fruit

・ Peanuts
・ Bean confections and mixed sweets
・ Nuts
・ Raisins
・ Prunes
・ Mangoes
・ Banana chips
・ Pineapples
・ Chestnuts in retort pouch
・ Plums
Seafood
Delicacies

・ Squid
・ Seaweed
Inspect product taste, volume, use safe and reliable methods
Flavor is added at a factory with primary-processed raw material.
Products that can be packaged
Other,
Raw Materials

・ Popcorn
・ Corn snacks
・ Rice snacks
・ Chocolate bars
・ Impregnated snacks
・ Seaweed-based raw material
Procurement and Quality Management Base
From quality control at the factory to the manufacturing process,
involving product groups that can be realized Flavor is added at a factory with
Imported
Finished
Products

・ Malaysian product
(Biscuits/Candy)
・ Korean products
(Chocolate pie, etc., made in joint efforts with major pharmaceutical companies)
・ Chinese products
(Biscuits/Candy/Rice confections/Molded potatoes)
・ European products
(Special chocolates
Semi-Perishable

・ Dorayaki (sweet red bean pancake)
・ Nagasaki Castella
・ Donuts
・ Belgian waffles
・ Steamed items
・ Semi-perishable cakes
Development based on the know-how cultivated through
the OEM commissioned production of individual food products.
Rediscovery of traditional Japanese sweets
Product making that matches the market
Traditional
Sweets

・ Iwate karinto cookies
・ Confection sugar
・ Ramune sweets
We arrange the servings and packaging for traditional sweets
from regions of Japan that match market demand.
Please visit the "Sweets Library" showroom of
our headquarters to consult about your products.
Contact
Please feel free to contact us by phone or email.