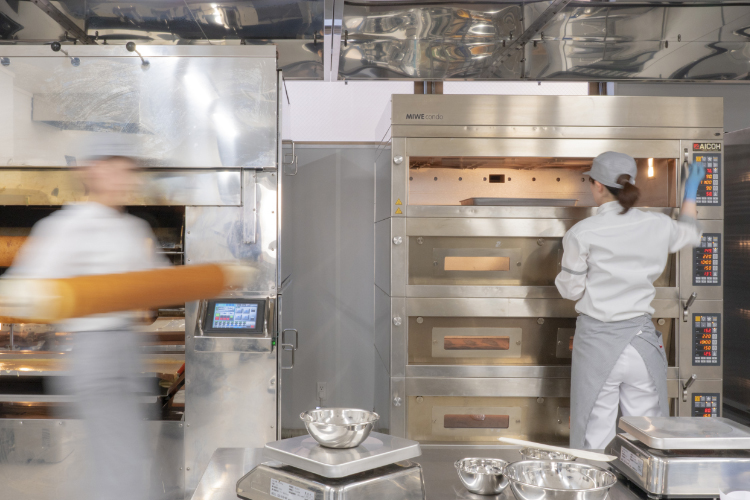 Planning & Development
Given shape to the sweets we desire. Miyata's endless challenge!
Responding to changing trends and tastes, sweets need to continue to be reinvented. Miyata responds to the needs of the marketplace while making efforts to develop new sweets, creating more than 70 new products annually.
Product Planning

Development that reflects your demands.
Miyata's five categories

Our development team gathers information on market trends, price ranges and raw materials. We pursue the possibility of new sweets by tapping into a broad range of diverse perspectives. We delve in five categories – seasonal products, policy products, new products, growth products, and economic products. Our approach in developing sweets is to focus on functionality.

Demand Development

Taking on product design and development based on our customers' demands

We receive proposals from our clients and develop products. We don't base pricing or quality on the demands of our clients alone; we use our own Miyata filter to brush up on things. We start with product design, engage in repeated trials, and follow through until the product is complete. We also offer packaging services.

Spontaneous Development

Our strengths are our uniqueness and our proposal skills.
Developing original brands

Miyata's accumulated knowhow, based on its market research and unique informationgathering skills, works for our product development. We sell under the original Miyata brands, listen to the suggestions of our clients, and look for the opportunity to show the broad appeal of our product development prowess.

Miyata's Achievements

In recent years, Miyata has collaborated with large retailers to expand the results for OEM and PB products. With adding snacks, beans, and dried fruits to the Miyata brand, the three businesses consisted of our in-house product development account for 70% of our sales. The other 30% comes from wholesaling the products of regional makers.